Works in progress

This is Bandai (yes, when they made aircraft instead of anime and toys) 1/24th scale BIG A6M5 Zero....
well, its the rear half of it - this is going to be one big crash diorama. I dremel-ed it off jaggedly and used a whole bunch of strip styrene ribs and such to add into the thinned down parts of plastic - To paint the Hinomarus, I airbrushed red, used half of a kit decal for a mask, airbrushed the green before the decal set and removed. Very useful effect, try it sometime.
Oh yeah - airbrush aluminum first before any aircraft primer coats and then when done, steel woll works wonders!!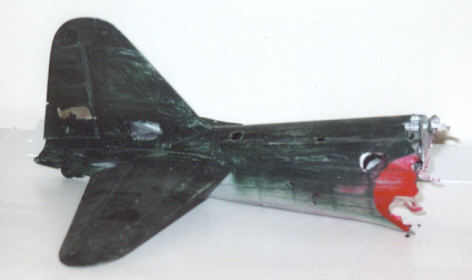 So far on the front half, I have scratchbuilt one gear well and most of the cockpit, using minimal kit 'pit parts.
The Old models

Moving along, here are my oldies that were airbrushed...




FIrst off - 1/72nd scale tamiya M6A1 Seiran and M6A1-K Nanzan. These are on display at the Garber facility.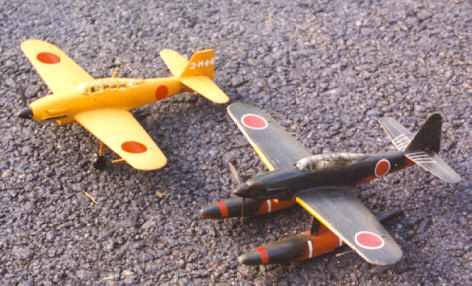 Hasegawa 1/48th A6M5 Zero - yes, highly weathered, how I wanted it.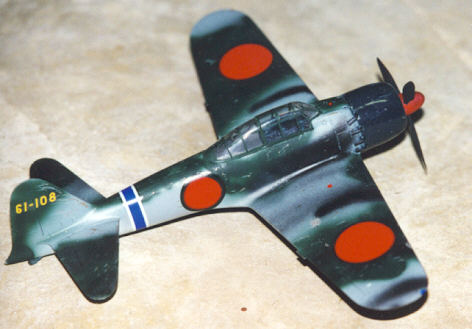 Hasegawa's B7A2 Ryusei (shooting star) or Grace in 1/48th scale.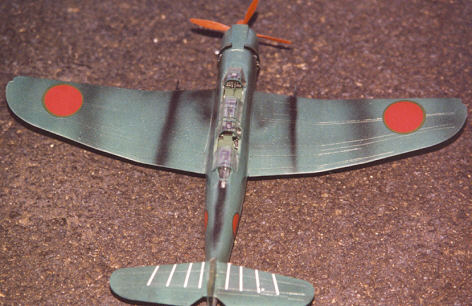 Tamiya 1/48th scale M6A1 Seiran (partially folded, got bored) and Hasegawa's 1/48th scale Raiden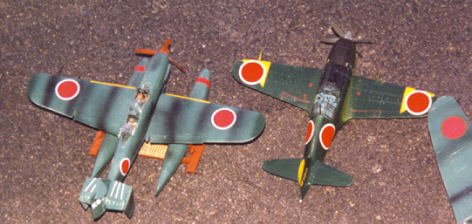 Dragon/DML 1/48th scale FW-190 D-11. I used random decals I had lying around, so its a "what if?" 1946 Jagdgeschwader Richtofen.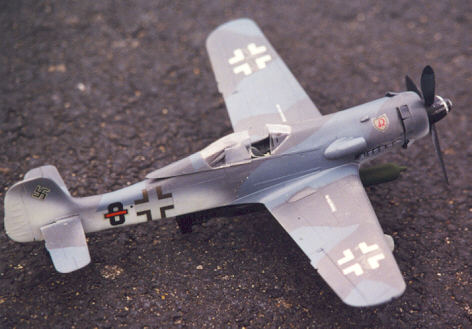 Tamiya 1/48 Mig-15 Bis - I never entered this in a contest, but instead it is on display at NASM's Garber facility with my seiran/nanzan (look above if youre asking what they are)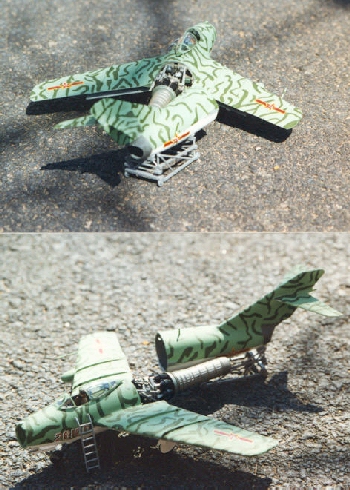 These are 1/48th scale Monogram P-47D (rear) and Hobbycraft (hobbyCRAP) Seafire in SEAC (South East Asia Command) markings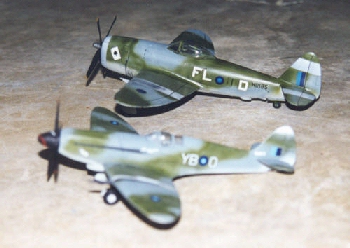 Um....Dragon's 1/48th scale Mistel (Ju-88 + FW-190). This won two first place junior diorama at regionals in the area - Same dio base as the Bradley tank below.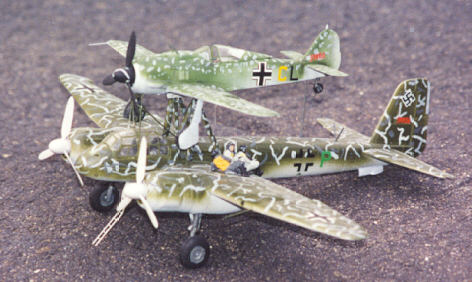 well, these are the OLD models...
the ones that I never sanded seams, never airbrushed.... never put a huge amount of effort. Somehow, the fw190 and G4M won first place at regional contests in junior categories....
lets see.....
Airfix (ick) 1/24th scale BIG FW-190 - I addeda little detail to the gun bays, and made "stands" to simulate a 14-year old's impression of a factory photo I saw. In the background, Revell 32nd scale F-15E, Esci 1/48th HS 129, monogram 48th A-37 Dragonfly, and promodeler me 110.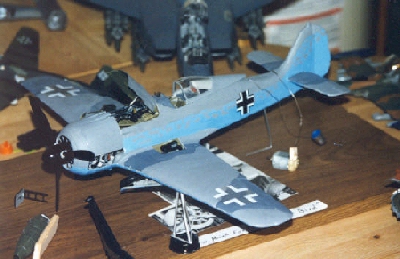 This is my M2 Bradley dio, 1/35 scale tamiya. That other soldier is from Dragon's delta force set. This took the most of ALL of my models.... 2 best junior models at IPMS, 1st place armor IPMS, 1st place diorama IPMS, 2nd place junior AMPS (Armor modelers and preservation society). YAY!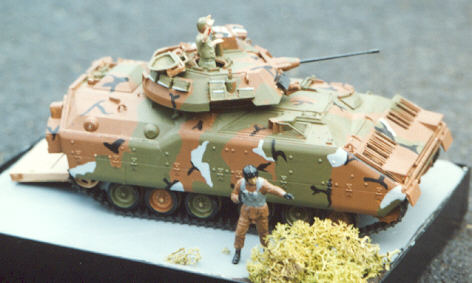 next..... Monogram's 1/48th scale Mil 24 Hind. This was a fun kit to build! I recommend Cobra Companies detail/conversion sets now they're available. Theyre damn nice!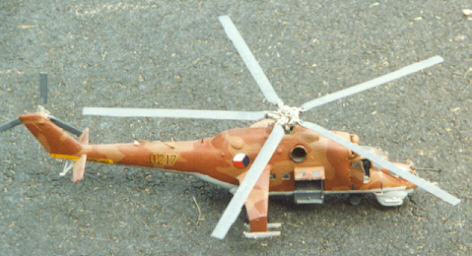 This is Tamiya's beautiful G4M Betty (Ishikiriko) This was 1st place junior aircraft IPMS Modelclassic \ (nothern VA hosted) 1997




ah...these are Revell's 1/32 scale (BIG!) F-15 E and RF-4. They dont look too bad form this distance..... dont get too close though or you'll change your mind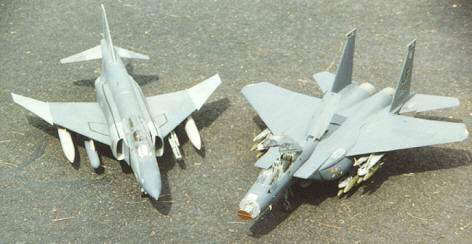 The Walker/Bulldog tank was supposed to be a quick build with no sanding just to have a big tank in the collection with kiwi markings.....it took too damn long due to crappy fit and the treads being too short I cant remember who made the kit, but its 1/16 or 1/18 scale.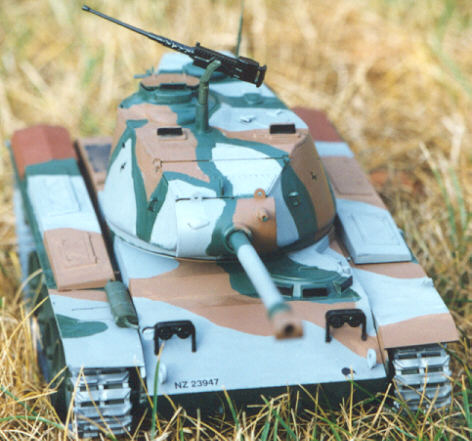 Now is Tamiya 1/48 scale FW-190 D9, the first kit I won with in a contest (2nd place junior aircraft, mosquitocon '96)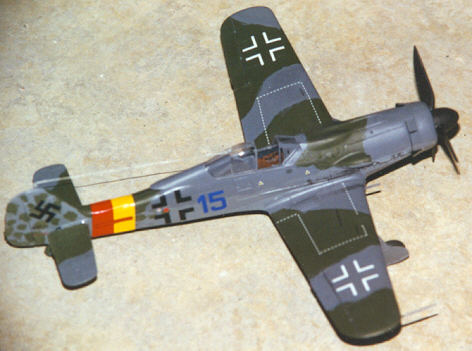 Ahh, the good old Accurate Miniatures TBF/TBM avenger. Damn shame theyve just gone bankrupt. this is in ex. pres. George Bush's markings (sort of - theyre accurate, wrong sizes though) made from scrap decal.